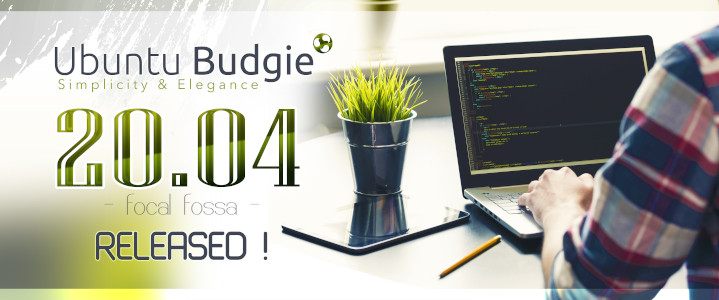 VERSION
Ubuntu Budgie v20.04 (Focal Fossa) Release: April 23rd, 2020
Ubuntu Budgie 20.04 is a LTS (Long Term Support) release that will be supported for 3 years until April 2023. Long Term Releases provide assured stability over a longer term than a standard 9 month release. Critical and stability fixes will be released for all the supported Ubuntu Budgie components; these will be undertaken by ourselves, Canonical and the wider Ubuntu community.
This is the 19.10 upgraders release note.
If you are upgrading from 18.04.4 then we have a release note more applicable to you!
In these release notes the areas covered are:
New features and enhancements
Issues Resolved
Upgrading from 18.04 / 19.10 Ubuntu Budgie
Known Issues when upgrading
Where to download Ubuntu Budgie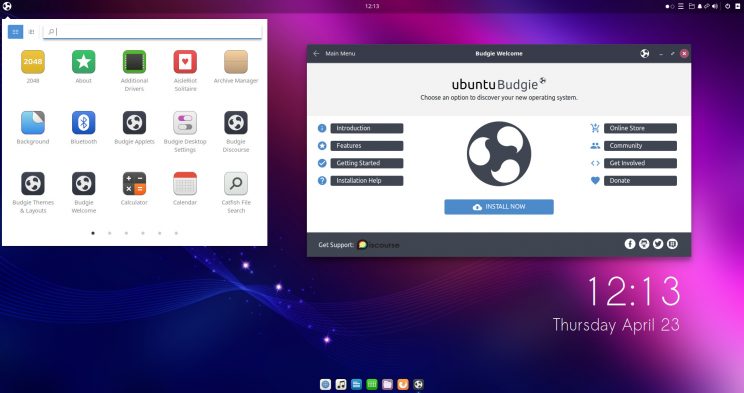 NEW FEATURES AND ENHANCEMENTS
20.04 STUFF TO LOOK OUT FOR
Stylish menu applet as the default
budgie based network manager applet as the default
Revamped Window Shuffler – animations, faster, keyboard friendly tiling
Desktop Layouts – choose your default desktop layout with one click
Wallstreet – budgie friendly and lightweight desktop wallpaper rotator
4K resolution friendly budgie desktop and budgie applet support
GNOME Firmware and Drawing are new default applications
Ubuntu Budgie Community Wallpapers for 20.04 – there was a community contest to choose its favourite wallpapers – and the community certainly contributed amazing desktop images. I hope you like them. We will next run a community contest for the 22.04 LTS
All our backport packages have now been rebuilt for 20.04 – look out for nemo-share and nemo-dropbox and also skippy-xd is available through backports.
Budgie Welcome – Translation team has been bustling – many more languages now available
Latest versions of our default themes Pocillo & QogirBudgie
BUDGIE DESKTOP:
Once again Ubuntu Budgie continues to take the lead to ensure budgie desktop remains compatible with the latest GNOME stack. This time around the development has been fairly smooth and it should be straightforward for all distros uplifting to GNOME 3.36.
Ubuntu Budgie 20.04 LTS ships with budgie-desktop v10.5.1.
The following are the relevant sections from the upstream release announcement.
"Bug fixes are the cornerstone of Budgie 10.5 series releases, ensuring existing Budgie user experiences are smoother than ever.
Budgie 10.5.1 has many bug fixes:
Classic Budgie Menu: Menu items are now sorted using locale linguist rules.
IconTasklist: Fixed instances of window tracking in multi-window scenarios
IconTasklist: Fixed the ability to move non-favourited running applications / windows in IconTasklist across grouping and non-grouping modes.
Raven: Notification body alignment is now properly justified.
Raven: Application controls in the Sound applet will now handle Gvc ChannelMap changes. This is useful since some applications do not provide accurate GvcStream volume immediately when creating their stream, such as Firefox when starting a video. Applications like Firefox more accurately reflect muted states over Gvc.
Polkit: Correctly handle user dismissing authentication dialogs
Window Manager: Enforced is an instant auto raise of windows when the focus-mode is set to mouse over / mouse focus and 250ms on click, resulting in speedy window raising.
Budgie 10.5.1 introduces a few new goodies to make your Budgie experience even better!
Budgie Desktop Settings: Budgie Desktop Settings Fonts
Budgie 10.5.1 introduces hinting and anti-aliasing settings in the Fonts section of Budgie Desktop Settings, allowing you even more flexibility with how document, interface, monospace, and window title fonts render:
For font hinting, you can choose between a range of options ranging from no font hinting to full font hinting.
For antialiasing, you can choose between subpixel antialiasing, standard grayscale, and no antialiasing.
Icon Tasklist Hover:
If you have a single window open for a given IconButton in the Icon Tasklist, the tooltip when you hover over is shown.
Workspaces:
Budgie 10.5.1 introduces the ability to have persistent workspaces created at the launch of Budgie, with a configurable amount of default workspaces.
Under the Desktop section of Budgie Desktop Settings, you'll find a new option called "Number of virtual desktops", where you can go from just having one workspace up to eight! A perfect opportunity to hide away all those Electron apps you're ashamed to be running!
If you want more workspaces dynamically, you can also use the Workspace Applet to add more as you need them."
Ubuntu Budgie Experience
The following areas have been added or changed to enhance our budgie-desktop implementation:
System Tray applet now dropped as a default – it is buggy and the network manager applet is now/intended as a default
At the same time – added the ability to not run network-manager applet – this ensures the buggy system tray icon no longer appears
CTRL+ALT+left/right swaps workspaces without a workspace indicator in the middle of the screen. This has been done to speed up switching workspaces & most importantly removes the possibility of crashes due to conflicts with the workspace animations
Event alerts sounds are disabled by default now – if you want alert sounds choose the alert noise you want and sound level in Settings – Sound
HiDPI (4K) support for Budgie applets (both in built-in and third-party) and their popup functionality
Fix for keyboard shortcuts mysteriously going missing
Fix for multimonitors to stop windows overlapping the top-bar when maximised
Switch from qt5-style-plugins to qt5ct for QT app styling – apps such as vlc. You should see a QT5 Config app now in the menu to help you configure styling of QT apps. Also to note – some QT5 apps such as VLC also have styling options built in as well.
Moka based icons revised to capture GNOME 3.32/3.34 and 3.36 changes
Support large global menu in budgie-desktop panel
Better lock screen styling – buttons are now flat and match the lock screen dialog
Pixel Saver & Pocillo: Close button is now styled to match CSD windows
Note also GNOME Upstream have now removed the split of Application Menus from the Window menu. So for Budgie this means there is no separate "Application" icon in the decoration to show the appmenu. Appmenus are now combined in the Window menu.
Desktop Layouts
For 20.04 LTS we now support a one click method to set up your desktop with a look and feel that you are most comfortable with.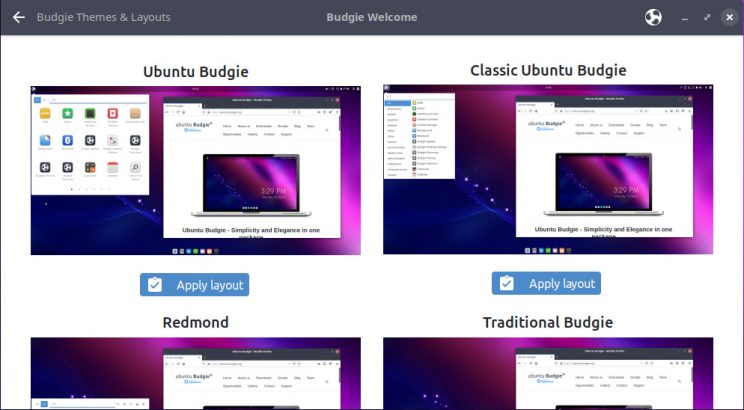 Accessed through the Menu – Themes & Layouts, the following layouts can be used:
Traditional Budgie
Classic Ubuntu Budgie
Ubuntu Budgie
Cupertino
The One
redmond
Choosing a layout replaces your current setup with a predefined panel and applet layout. Combine that with the theme makeover option, you now have a extremely fast method to configure Ubuntu Budgie the way you want to.
BUDGIE APPLETS & BUDGIE MINI-APPS
Debuting for 20.04 are:
Budgie Applications Menu
We are pleased to ship by default our take on a simple but elegant menu for our desktop. Heavily based upon the good work of the ElementaryOS crew, this menu displays your installed applications via a Grid View as well as the traditional category view budgie users know and love.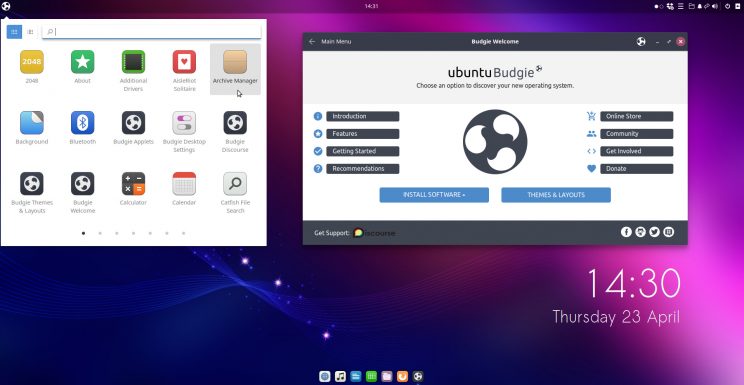 … with powerstrip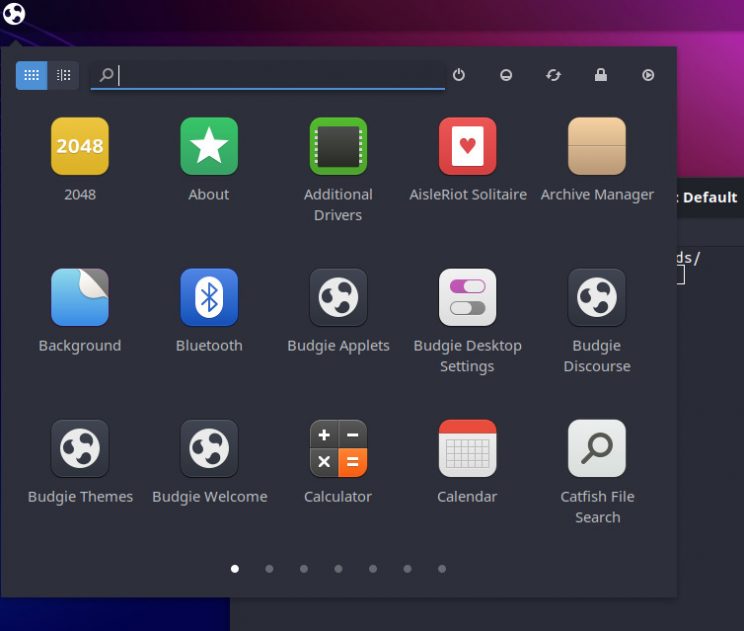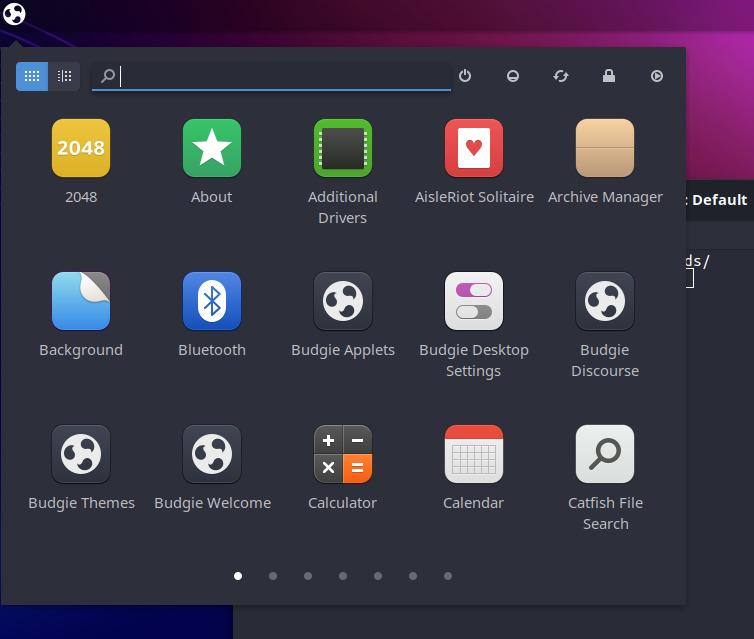 We have enhanced the menu to optionally show the budgie powerstrip – so for those users who dont want to use the default power applet in the panel.
The menu has many extra features – e.g. right click action options for those applications live steam that offer them.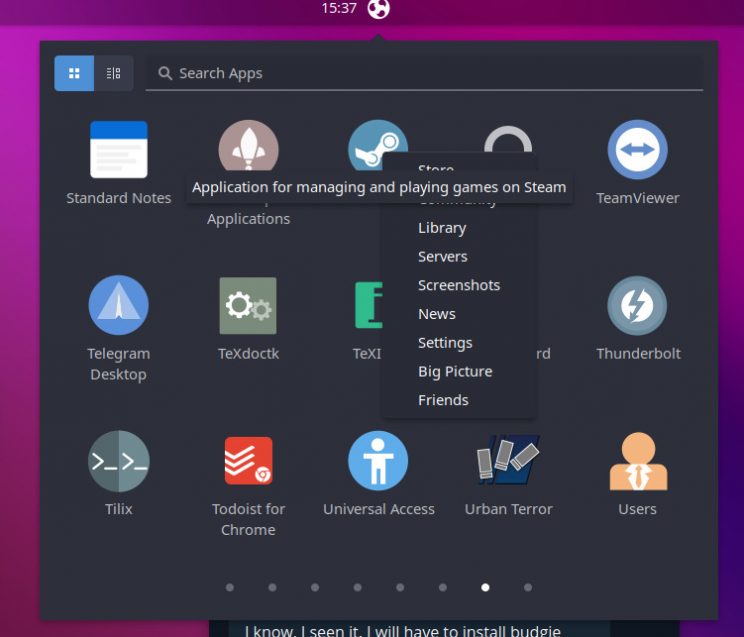 … a couple of hidden extras – type 2+2 – its a built in calculator
or type ubuntubudgie.org into the search.
Again optionally – if you install zeitgeist the menu will start to learn what you frequently search for – and the search results be more tailored to your frequent requests – i.e. find things first time.
Network Manager Applet
Budgie Desktop has shipped with a legacy network manager icon in the panel. It has never integrated very well – and together with the buggy system tray weird icon effects were visible on logon.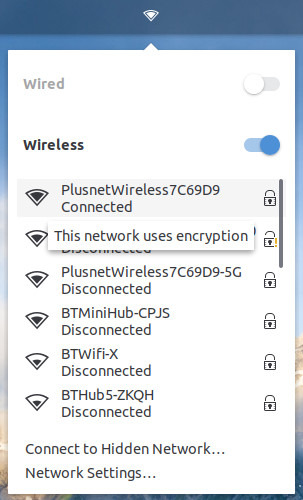 Enter the native Network Manager budgie applet. This integrates fully with our budgie desktop. We have tidied up and built upon the good work of the Daniel Pinto (original creator) and the ElementaryOS team from which the budgie-applet was derived from.
Budgie Window Shuffler
Focal's Window Shuffler is a completely rewritten and re- designed version of Budgie's tiling add-on. Apart from the drastically improved responsiveness, features now include:
Setting margins and padding of the window grid


Shuffler Preview

Shortcuts for snapping windows to the nearest tile
Shortcuts for resizing windows in all directions
Scroll over the GUI grid to set its shade
Targeted position preview when using the GUI grid


Shuffler: Preview

Animated window movement when using shortcuts to move windows
Swapping windows in case a window is moved to an existing window's position
Shortcuts for Quarter / half tiling
The new Shuffler Control window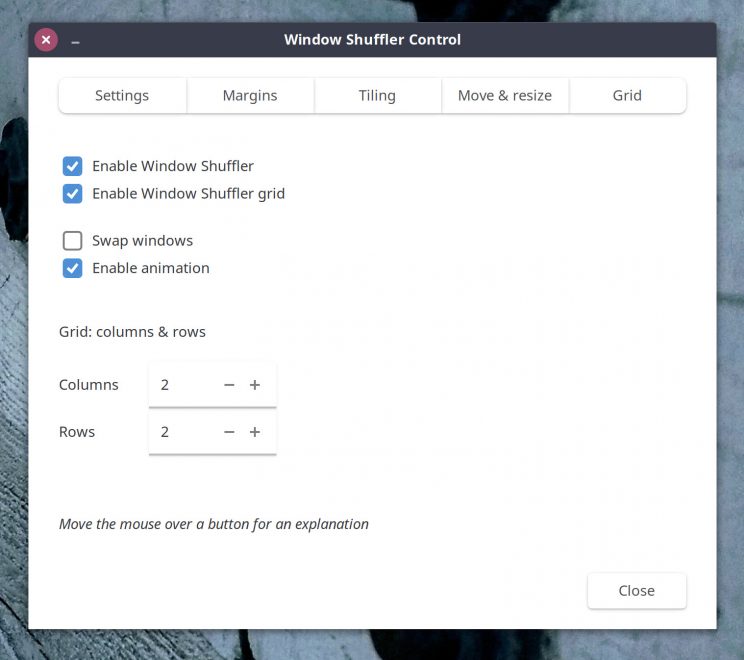 Wallstreet
One request that continually was made was to have the ability to rotate through a folder full of photos and display on your desktop. We know there are many heavy-weight tools out there – but what our community wanted is a simple – very lightweight solution built into the desktop.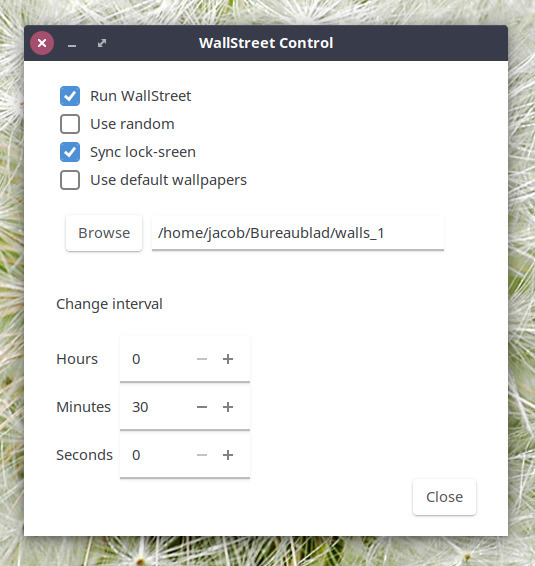 Enter – WallStreet – a new lightweight wallpaper rotator every x minutes. Just enable it through the menu – wallstreet control
Visual-Space
New applet budgie-visualspace-applet – a stylish compact workspace switcher as a default on the panel.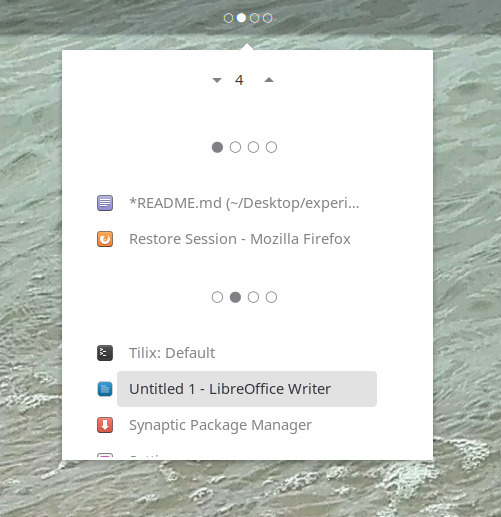 So this desktop focused productivity tool is used if you have lots of windows spread over your desktop and/or between workspaces – you can quickly focus that window without having to alt-tab through everything.
Dropby
Dropby applet makes a reappearance as a default panel applet

When any USB device is connected then you have easy access to it – with the ability to copy its contents, open to see what is on it and to eject the device safely directly from a popup and panel applet.
Applet Updates
Application Indicator applet – don't show missing image icons for google hangouts extension i.e. Chrome/Chromium have now removed appindicator support
Weathershow applet – Display temperature correctly on vertical panels
Tweaked budgie-pixel-saver-applet to correctly handle displaying Titles/Titles & Buttons/Buttons
All these productivity applets and mini-apps are now available from Budgie Welcome – select Menu – Budgie Applets
Remember, budgie-applets showcases many more indie developer applets
In total Ubuntu Budgie users have direct install access to 35 budgie applets and budgie mini-apps through budgie-welcome
If you want to showcase your applet in UB contact us and let us know about your project.
Daily builds for budgie-extras is available – so to get the latest (warts and all) ppa:ubuntubudgie-dev/budgie-extras-daily
Budgie Welcome
Budgie Themes & Layouts
We have shipped for a few releases now the ability via one-click to completely update the look of your desktop – cursors, icons, themes etc. From 20.04, this makeover ability can now be individually applied i.e. just the theme, or icon etc. giving you an easy way to mix and match between different makeovers.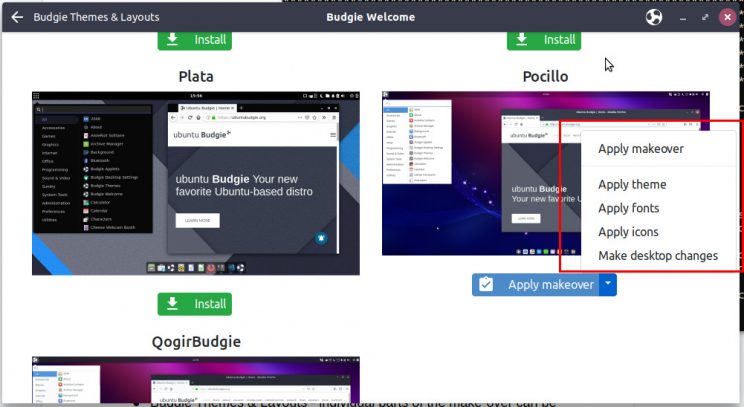 Latest version of vimix theme available through Menu – Budgie Themes & Layouts is shipped in 20.04 together with QogirBudgie (available by default on the installation)
Default Applications
Drawing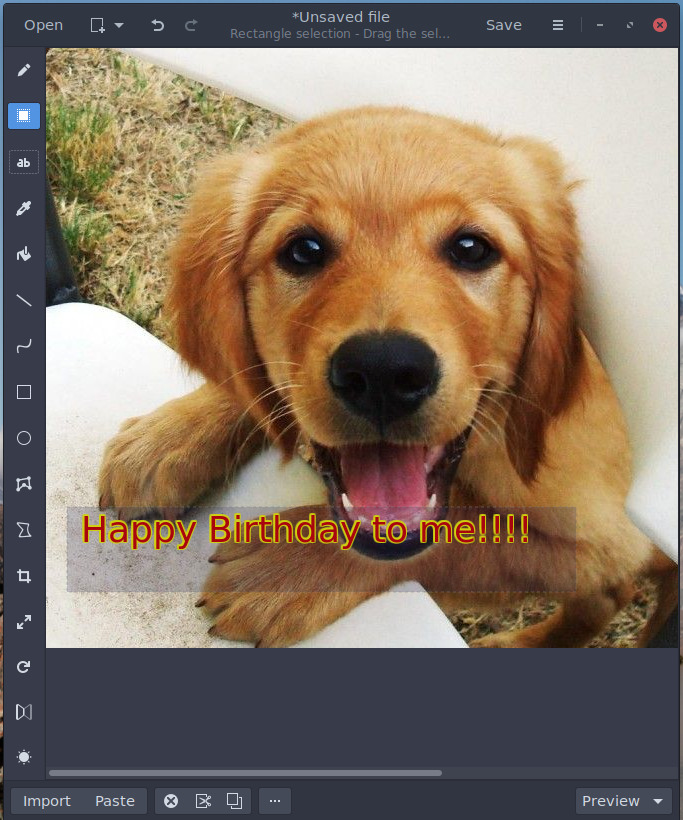 We are pleased to ship by default the stylish new Drawing application. This application is a basic image editor, similar to Microsoft Paint, but aiming at the GNOME based desktops such as GNOME Shell and Budgie Desktop.
PNG, JPEG and BMP format files are supported.
GNOME Firmware
Ubuntu Budgie now ships with GNOME Firmware – it is really a power user tool to resolve those specific vendor device issues that can be resolved by firmware. We don't expect you to generally use this to update stuff – only update if you are having issues that cannot be resolved by updating the linux kernel. Also to note – not all manufacturers release firmware that can be installed via linux – you may still have to resort to MS Windows based upgrades.
Celluloid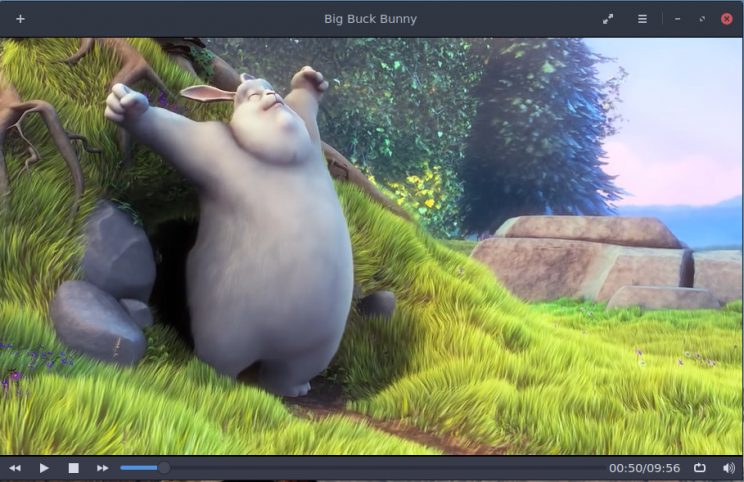 Celluloid has now replaced gnome-mpv
Samba
Samba has been removed as a default install
Android Phone integration
Ubuntu Budgie now provides seamless desktop-to/from-android phone transfer capabilities – we now ship with go-mtpfs by default. Simply plug-in your android phone and it will appear automatically in nemo allowing you to copy files/photos etc between your phone and the desktop.
KEY FEATURES AVAILABLE TO UB FROM UBUNTU
Linux kernel v5.4
GNOME 3.36 applications
Latest version of LibreOffice 6.4
Latest ZFS support with automatic APT rollback support
A shed-load of fixes throughout the Ubuntu stack – congrats on all Canonical, Ubuntu devs, Debian devs and all devs in the free software community for all of their hard-work which everyone should be pleased about ?
What does all that mean – most cutting edge yet stable software that brings great benefits for brand new hardware compatibility – including support for the very latest games.
UB MAINTAINED PACKAGES
Apart from the above (!) UB maintains many Debian packages. New versions available in 20.04 include:
Slick Greeter
Login Window Preferences
DesktopFolder
ISSUES RESOLVED:
Resolve the slow startup of QT based apps in 19.10.
Reduction of the number of error reports seen on logout and login
GNOME Software Updates tab has been hidden – it doesn't really work and the recommended update process is via Menu – Software & Updates
Fixed budgie-desktop bug to allow custom layouts that include left & right panels.
Papercut – uninstalling default applets now no longer uninstalls the Ubuntu Budgie desktop environment.
F12 no longer launches Tilix – this was interfering with a common browser keyboard shortcut
Budgie Desktop now includes a patch developed by myself hopefully to reduce the number of crash reports you see on first logon.
KNOWN ISSUES:
When installed on default VirtualBox settings or QEMU, on first logon the session will crash when budgie-welcome is first open. The session also crashes when other applications such as Settings is open. https://bugs.launchpad.net/ubuntu/+source/xorg-server/+bug/1745345
For virtualbox ensure the VMSVGA graphics driver is used in the virtual machine settings
For QEMU use the VMVGA graphics driver.
Alternatively for both uninstall the gstreamer1.0-vaapi package
If you find that after the upgrade clicking the menu button crashes the panel, then CTRL+ALT+T to open a terminal then run:
nohup budgie-panel --reset --replace &
Launching terminal based apps from the menu does not work. Workaround is to fool GLib to assume that a supported terminal (tilix isnt supported) is installed sudo ln -s /usr/bin/tilix /usr/bin/nxterm. https://bugs.launchpad.net/ubuntu/+source/budgie-desktop/+bug/1873428
Please read the Ubuntu Release notes which covers issues common to all Ubuntu Flavors.
UPGRADING
HOW TO UPGRADE FROM 18.10/19.04/19.10 TO 20.04
IMPORTANT: remember to double-check you have the following vital package before you upgrade:
sudo apt install ubuntu-budgie-desktop
After the release of 20.04, you will be offered to upgrade when you run Software & Updates. Alternatively, from a command line run:
update-manager
IMPORTANT We do not recommend running do-release-upgrade from a Tilix terminal since this will hang during the upgrade. If you want to use do-release-upgrade switch to a TTY and login before running the command.
Some of the packages that were installed as part of the Ubuntu Budgie backports PPA (ppa:ubuntubudgie/backports) will be uninstalled as part of the upgrade. Use budgie-welcome to reinstall anything that is removed.
HOW TO UPGRADE FROM 18.04.4
18.04 LTS users using the 64bit edition will be offered the upgrade to 20.04 in July/August 2020 when the first point release (20.04.1) is made available. The first few months (April to July) are used to iron out those particularly troublesome issues not found at the initial release. So be patient and you will be rewarded with an upgrade window notification when to move to 20.04.
The Caffeine application indicator will be removed as part of the upgrade process. You can replace this with the native budgie caffeine applet in budgie-desktop-settings – panel – add applets
To get the 20.04 panel layout use the Menu – Budgie themes & Layouts application.
18.04 LTS users using the 32bit edition cannot upgrade to 20.04 – 32bit support was dropped after 18.04.
Please refer to the community wiki for more help: https://help.ubuntu.com/community/UpgradesAlso, Ask Ubuntu has an excellent guide to help you upgrade: http://askubuntu.com/questions/110477/how-do-i-upgrade-to-a-newer-version-of-ubuntu
DOWNLOAD
Final release is available here: https://ubuntubudgie.org/downloads/
Beta release is available here: http://cdimage.ubuntu.com/ubuntu-budgie/releases/focal/beta/
GETTING SUPPORT
Thanks to the generosity of discourse.org, our support site is the crucial site for all things Ubuntu Budgie.
One to bookmark https://discourse.ubuntubudgie.org
More information can be found here.
INFRASTRUCTURE
We just wanted to thank our infrastructure sponsors who help us keep the lights on.
DIGITAL OCEAN
On a mission to simplify cloud computing so developers and their teams can spend more time building software that changes the world.
DISCOURSE
Discourse is the 100% open source discussion platform built for the next decade of the Internet. Use it as a mailing list, discussion forum, long-form chat room, and more!
STATUS.IO
Status.io was built to help companies enhance transparency and keep their customers in the loop during downtime. The Status.io platform enables organizations to maintain a customized public system status page, external to their infrastructure, that always displays the current health of their app, website or service.
UpCloud
Cloud hosting for developers – Platinum client hardware partner for the Ubuntu Budgie team
---
David (project lead)